In this article about Kyanite gemstone, we will first tell you about the history of Kyanite, introduce you to the different characteristics of this gemstone, describe and explain the healing properties and uses, and we will end this article by explaining its price and how to recognize this gemstone.
Here is what we will talk about in the rest of this article:
What is a Kyanite gemstone?
Kyanite is a fairly rare stone with glossy walls that reflect the beauty of nature. Every cut shines brightly in a unique pattern of brilliant waves and comes in a range of hues. Every sample you're fortunate enough to have your hands on has a different finish, making each one unique.
This triclinic crystal structure aluminosilicate mineral is an aluminosilicate mineral. All of the stones we observe today were formed by tremendous heat and pressure in metamorphic rocks. Kyanite crystallizes in extended bladed crystals, creating even natural cuts stunning!
Kyanite became an important mineral in various industries as time passed. This stone was used for everything from industrialization to exquisite ceramics.
Numerous people collect it nowadays because of its beauty, significance, and powers. Kyanite is believed to have vibrations that surpass some of the crystal kingdom's most powerful materials.
Kyanite comes in a variety of shapes and sizes
Kyanite comes in a variety of shapes and sizes. Each variation corresponds to a distinct chakra, despite the fact that they all have similar meanings and therapeutic qualities. Because of the little variations, each kind of Kyanite is distinct and deserving of ownership.
Blue
The most prevalent kind of Kyanite is blue. A swath of serenity is created by waves of dark and light blue. This stone aligns with your chakra system and motivates you to tell your truth regardless of the circumstances.
Black
Black Kyanite does have a mysterious appearance. It does, however, provide one of the stone's most significant advantages. It lets you feel more secure in life by working with the root chakra.
Green
Green Kyanite's earthy colors are evocative of Mother Nature. This stone will always be associated with your heart chakra. It helps keep your heart open, allowing you to offer and accept love freely.
Orange
Orange Kyanite is a wonderful sacral chakra stone that radiates warmth and pleasure. The spirals of orange evoke the warmth of the sun, that perfectly encapsulates the emotions evoked by this crystal. It's a wonderful gemstone for creativity, as well as bringing joy and general happiness into your life.
Kyanite meaning
Kyanite is a gemstone that is known by a variety of names. The stone has the same significance whether it's called Disthene, Rhaeticite, or Cyanite.
The main meaning of Kyanite is calmness and endurance. The glittering illusion of colors symbolizes rational reasoning and spiritual healing, yet its energy isn't as straightforward as many people believe.
Healing crystals come in a variety of shapes and sizes, all with the goal of bringing you serenity. The meaning of Kyanite, on the other hand, is to be in touch with yourself, your environment, and the cosmos in general. It's also known as the "Stone of Attunement" since it helps you become more aware of life's quirks.
Too many individuals are preoccupied with other people's opinions or what they consider to be "normal." Being unable to fit into the mold causes a great deal of mental distress and suffering. However, as you change your viewpoint and become more aware of your surroundings, you'll see that the things you focus on don't actually important.
Learning to realize how inconsequential small problems are may give you a new feeling of self-assurance as you go through life. It all comes down to not sweating the little things and having the courage to trust yourself and your instincts. Kyanite facilitates such emotions and opens the door to genuine happiness.
Kyanite Healing Properties
Look no farther than Kyanite if you're searching for a strong mineral to add to your healing crystals collection. Kyanite's therapeutic qualities make it a powerful vibrational energy source.
Its energy is powerful and pervades every aspect of your existence. Kyanite has an impact on everything from the depths of your psychological well to the limitless powers of a high-flying spirit.
The physical benefits of Kyanite
When they need a boost of strength and clarity, most people turn to Kyanite. That does not, however, imply that your true self is neglected. The therapeutic qualities of Kyanite, according to some devoted healers, may offer a couple of significant biological advantages.
Your circulatory system is the subject of the first. The basic idea is that meditating with Kyanite on a daily basis may help you maintain a healthy blood pressure level. Its calm character reduces tension, which may be beneficial in circumstances when your blood pressure might otherwise soar.
Kyanite is also believed to aid in the treatment of inflammation, general bodily discomfort, and other ailments. Many people think it's a fantastic all-around healer. Whether you're dealing with serious health problems or little aches and pains, Kyanite may be able to help.
Believers claim that Kyanite encourages a better lifestyle in general. It is said to motivate you to eat better, keep in shape, and take good care of yourself.
The emotional benefits of Kyanite
The effect of Kyanite on your mental wellness is really nothing short of remarkable.
As previously stated, unlike other stones, the qualities of this gem do not promote serenity. It doesn't just remove the negative energy and hope that you get distracted enough to experience pleasure. Kyanite, on the other hand, alters your viewpoint and reveals the reality of the world surrounding you.
It sharpens your intellect and assists you in taking control about your own life.
Nothing will be able to stop you from being the boss of your life if you combine it with your brand-new mindset.
This crystal promotes clarity and encourages you to follow your own path. Whatever your goals and objectives are, the significance of this gemstone will persuade you to pursue them! You can't expect to achieve significant progress unless you try, and Kyanite seems to be the ideal partner to help you along the road.
This vibrant stone is especially ideal for individuals who wish to express themselves more freely. It encourages you to express yourself. It's not always easy to be your real self in public. Kyanite's strength-giving properties may assist you in living life fully without worry of what others may say or think.
The spiritual benefits of Kyanite
Kyanite is said to have a strong connection with your spirit guide, according to practitioners. This built-in connection serves a variety of functions.
For starters, it's a powerful stone for defense. You may deepen your connection with your otherworldly guardians and feel protection everywhere you go with Kyanite on your side.
Furthermore, Kyanite may assist you in discovering talents you were previously unaware of. For individuals with psychic talents, the stone is a wonderful friend. Some practitioners claim that it makes intuitive talents more visible, enabling people who have buried their capabilities inside the past to rediscover their real purpose.
Kyanite may also help you connect your physical body to your spiritual self. This stone is known for promoting dream recall, which some people interpret as a vision of your spiritual path.
The Kyanite Chakras
Kyanite is a great option because of its mystical qualities. The unique aspect of this stone here is that the effect on your auric energy is completely dependent on the kind you have.
As we discussed before, various types of Kyanite have varied effects on your body.
The most significant difference you may see is in the black variety. It's also known as Muladhara, and it's a strong root chakra stone.
It's the first of your seven main chakras, and it is where life force energy enters your body. When the chakra is blocked, it causes emotions of loss and apathy. This stone's black variation guarantees that you remain steady at all times, allowing you to continue to experience pleasure and drive.
Your heart, sacral, or throat chakras are influenced by the various kinds of Kyanite.
Just above root chakra lies the sacral chakra. It's a crucial energy point to maintain open since it's responsible for your emotions of passion and pleasure. You won't be able to induce pleasure or express yourself without it.
Fortunately, Kyanite performs an excellent job of maintaining energy flow.
The heart chakra and the throat chakra are two places that influence how you connect with others. Your capacity to love is controlled by the heart chakra.
A clogged heart chakra may make you a terrible partner. Many people believe that blockages make you tyrannical and emotionally abusive. Since of its metaphysical qualities, kyanite is frequently used as a love stone because it ensures that you love unreservedly and make yourself available to receiving love in return.
The throat chakra is the last chakra. You can speak your thoughts and interact effectively with relatives when you have free-flowing energy. Blocks, on the other hand, may make you feel alone and chilly.
Kyanite has a significant effect on the metaphysical body. You could be a well-rounded and psychologically secure person by working through the chakras.
Kyanite zodiac sign
There are no official zodiac charts for Kyanite. It's also not going to show up on any birthstone listings.
While the stone is beneficial regardless of when you were conceived, some practitioners think it is more powerful when utilized by a select zodiac signs. Those born under the signs of Taurus, Aries, or Libra stand to benefit the most.
Kyanite is a favorite stone for Libras due to the clarity of its significance. This stone's qualities allow you to think more rationally and view things as it is. The stone aids Libras in being diplomatic and fair while dealing with difficult circumstances involving others.
Aries is in the same boat. Kyanite, on the other hand, is better suited to the irritable part of the Aries personality.
Those birth sign of the Ram are fiery and charismatic. Unfortunately, when things don't go their way, they may become grumpy and obstinate. It encourages people born under the sign of Aries to relax and go with the flow.
Then there's the fact that it's a Taurus stone. It strives to improve Taurean communication and compassion. Taurus natives may have tunnel vision as a result of their desire and neglect to respect the needs of everyone else.
This gem returns Taureans to Earth and educates them to be more compassionate toward others.
How to use the Kyanite gemstone?
Kyanite is bursting at the seams with possibilities. Its therapeutic qualities not only offer a plethora of distinct advantages, but it may also be used in a variety of ways.
Using Kyanite jewelry is the most simple choice. By placing this stone near your skin, your body will be able to receive its positive energy with no barriers. Plus, it's lovely enough to flaunt!
The possibilities are endless, from necklaces to elaborate rings. Despite the fact that the stone is brittle in tiny cuts, craftsmen continue to use it to produce beautiful works of art.
Tumbled stones or big ornamental cuts may be used by many who prefer more classical adoption techniques. Put the gemstone in your house or workplace to bring soothing energy into the area.
It's all up to you! The gemstone will always provide clarity and power, regardless of how you utilize it.
What is the Crystal Structure of Kyanite gemstone?
This gemstone is a relatively uncommon mineral that has a hexagonal crystal structure with six planes of unequal length. Its color is usually blue or blue-gray.
Kyanite's hardness ranges from 6 (soft) to 7 (hard). It has a perfect cleavage, meaning that it splits cleanly into many thin plates, and this characteristic makes it quite fragile and difficult to work with.
It can be found in metamorphic rocks, hydrothermal veins, and diatomaceous earth deposits. It can also be found in pegmatites near granitic intrusions where it can form alluvial deposits.
Kyanite geological specifications
| | |
| --- | --- |
| Mineral Information | Aluminum silicate |
| Chemical composition | Al2SiO5 |
| Hardness | 4 to 7 (Mohs) |
| Refractive Index | 1.71 – 1.73 |
| Color | Yellow, white, grey, green, black, and orange are much less prevalent colors than light to dark indigo blue. |
| Specific Gravity | 3.5 – 3.7 |
You can learn more about the specifications here.
How to Identify Kyanite by Sight?
Kyanite is a common mineral that can be found in igneous, metamorphic and sedimentary rocks. In order to identify kyanite, it is necessary to know its properties.
It is a type of rock which has high water content. The property that most distinguishes it from other minerals is its hardness on the Mohs scale. Kyanite's hardness falls between 7-7.5 on the Mohs scale which makes it softer than quartz and calcite which have a hardness of 7, and beryl with a hardness of 8.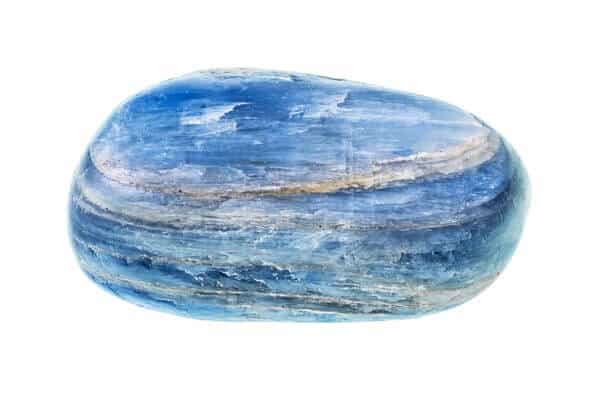 Identifying minerals can be challenging because they are so similar in appearance but there are some ways in which you can tell the difference between them without testing their Mohs scale or using any kind of lab equipment.
How much does the Kyanite cost?
It's a gemstone that is often used in jewelry. It comes in a variety of colors, and can be found in different shapes including round, hexagonal, and more. They are affordable for most people, yet still beautiful to look at.
The gemstones can be found within the price range of $8 to $15 per carat. The price varies depending on the type of kyanite that you are looking for and also the specific color that you prefer!
How to take care of the Kyanite stone?
This gem, unlike many other therapeutic crystals, does not need to be cleansed or recharged.
This is due to the fact that it does not store negative energy. This stone just reflects the light away from the darkness. The significance and characteristics of the crystal makes it the blazing beam of illumination you need to have in your life, even in the most severe circumstances!
It is still possible to clean it to eliminate dirt and filth. Whenever it comes to energy regeneration, though, Kyanite is always an excellent choice.
Run some room-temperature water over it to clean its physical look. A little amount of all-natural soap may be used to remove obstinate grime. Leave the gemstone away from aggressive cleaners and harsh chemicals, though.
Final thoughts
Whether you utilize Kyanite or not, the significance of the stone should be something you aim towards. Positive results are aided by clarity, calm, and resilience.